Ishika Kumar, Pune
The World Athletics Championships in Budapest, Hungary, 2023, have presented themselves as a grandiose sports event with stellar performances by Indian athletes. The Olympic Champion in Javelin, Neeraj Chopra, has carved his name in history yet again by securing victory in the Men's Javelin final on Sunday, August 27, 2023.
He is the first-ever Indian to clinch a gold medal in the World Athletics Championships, achieving this massive feat with a throw of 88.17m on his second attempt; the first one was a foul to begin with. His subsequent attempts measured at 86.32m, 84.64m, 87.73m, and 83.98m. All the distances achieved are truly impressive.
The second position was secured by Pakistan's Arshad Nadeem, who earned the silver medal with a throw of 87.82m, marking his season's best performance. This heightened the excitement of the final, echoing the historic India-Pakistan rivalry in sports. Since the 2016 South Asian Games, these two athletes have competed against each other numerous times, and their bond extends beyond the boundaries of the track. In fact, during the medal ceremony, Chopra even invited Nadeem for a photograph, showcasing the camaraderie between them.
Jakub Vadlejch of the Czech Republic claimed the third position, earning a bronze medal for his throw at 86.67m. Another remarkable achievement by Indian athletes was seen through Kishore Jena's throw of 84.77m and DP Manu's throw of 84.14m. All three of them secured spots within the top eight in the World Championships event, marking a delightful first for Indian athletics.
Parul Chaudhary, an Asian Champion in Steeplechase, clocked 9:15.31 in the 3000m final at the World Athletics Championships. The 28-year-old broke the national record and qualified for the 2024 Paris Olympics on Sunday, August 27, 2023. She secured the 11th position in the final but achieved her latest personal best and shattered the seven-year-long national record previously set by Lalita Babbar in the 2016 Rio Olympics. With a time of 9:15.31, Parul surpassed the 2024 Olympics qualification mark of 9:23.00. She now stands as the fourth-fastest Asian Steeplechaser in history and the second female to qualify for the finals of a track event.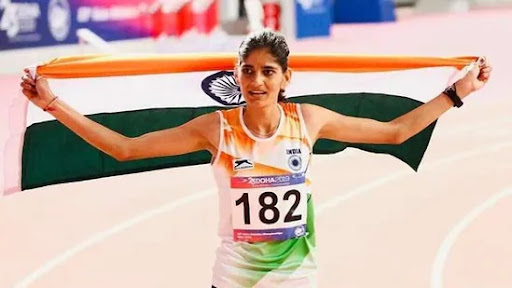 The Indian men's relay team, comprised of Muhammed Anas Yahiya, Amoj Jacob, Muhammed Ajmal Variyathodi, and Rajesh Ramesh, clocked 2 minutes, 59.05 seconds in the 4x400m relay. They became the first team to qualify for the final round of the World Championships. The team finished second behind the USA in heat number one.
---